Mobile betting is now legal in Arizona, and one of the online sportsbooks that have received a license from the state's gaming authority is BetRivers.
Being licensed is just one of a long list of reasons why you should sign up to BetRivers AZ. Another important reason is that there's a $250 bonus to grab, which you can do with the right BetRivers Promo Code.
The bonus in question is a 100% match deposit bonus. What this means is that after you make your first deposit, BetRivers will reward you with free credits in the value of the deposit, with the maximum bonus being $250. So, if you deposit $250, the sportsbook will give you another $250 in free credits.
Sounds good? If so, let's see how to get ahold of this promo.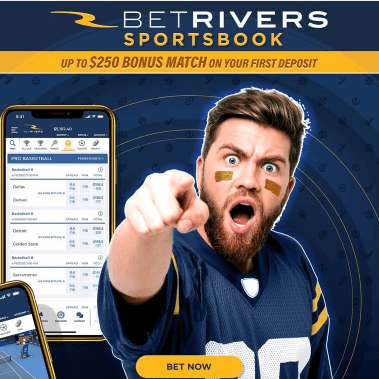 BetRivers Promo Code 2022
You will need a BetRivers bonus code to activate the welcome bonus. Without it, you might not receive the free credits after making your first deposit. The good news is that finding the code is no problem. Actually, we will reveal it to you!
The BetRivers promo code for the welcome bonus in Arizona is 250MATCH. You need to type this code within the promo field while making your first deposit. Note that this promo code is to be used only for the welcome offer. To unlock other deals, you will have to use other codes.


Can I Activate the Bonus Without a Promo Code?
Different bonus deals come with different requirements. This particular bonus – BetRivers Arizona welcome bonus – requires you to enter the right promo code to qualify.
Luckily, you already know what the BetRivers promo code is. The best thing about it is that it's easy to remember. In 250MATCH, the number 250 refers to the maximum bonus you can get, while the word "MATCH" signals that this deal is a match-deposit bonus.
This promo code is used not only in Arizona but also in other states where the BetRivers sportsbook is available. For this reason, it's only logical to assume that the operator will not change it any time soon.
Is There a Promo Code That Requires No Deposit?
At the moment, BetRivers does not have a no-deposit bonus available for players in Arizona. However, this doesn't mean that this isn't going to change.
Actually, it's very plausible that the sportsbook is going to decide to expand its promo selection. If it does, we could see some no deposit deals in the list.
How these bonuses work is that you are not required to deposit any of your money in order to receive free bets. Instead, you just need to enter the right promo code. Frequently the code in question is a BetRivers affiliate code, exclusive to visitors of BetRivers-approved websites such as AZ Betting Ninja.
Other Promotions for Existing Customers
In addition to receiving the $250 welcome bonus, BetRivers AZ customers have a few other deals they can claim. For instance, BetRivers might give you an odds boost if your bet fulfills a certain set of criteria. Then, there are often some bets with enhanced prices or even some cash-back deals.
On top of everything, BetRivers AZ also has a loyalty program. How it works is that you get to collect BetRivers rewards points, which you can later swap for free bets.
To get the BetRivers points, all you need to do is keep on betting – for every wager you place, the sportsbook will reward you with some points.